Adrian Rogers once said, "The Bible is a supernatural, spiritual, sovereign, surviving, sustaining, super-charged book about my Savior." Throughout the Bible, there is truth, after truth, after truth about our savior, Jesus Christ, including His death and the great impact that has on us today. Jesus' wonderful declarations are written out for us in the Bible so that we can absorb these words and lean on Him always. When we're in need of a spiritual awakening, these five quick declarations can help us have the breakthrough we're looking for.
Jesus Saved Me, Therefore I Have Nothing to Fear
Psalm 27:1 says, "The Lord is my light and my salvation—whom shall I fear?" Thanks to the love of our almighty God, who provided His one and only son to die for our sins, we have been saved. We have an eternal father who watches over us, protects us, and guides us. We are called, not to fear, but to trust in our Lord and be confident in our walk. "Don't be afraid, little flock, because your Father delights to give you the kingdom (Luke 12:32)."
Things Will Work Out For the Good, No Matter What Happens In My Life
Paul reminds us in Romans 8:28, "We know that all things work together for the good of those who love God, who are called according to his purpose." The future is a mystery to us, but it isn't to God. He knows every plan for each one of our lives. While we may be quick to worrying about the future, God reminds us that worrying is not beneficial. "Therefore, don't worry about tomorrow, because tomorrow will worry about itself (Matthew 6:34)." We shall find peace in knowing that God has a good plan for each of us, no matter what's happening in our life.
I Don't Need to Feel Guilty Because Jesus Paid It All
Hallelujah! We are no longer in debt because Jesus laid His spotless sinless life down on the cross for us - undeserving sinners. Romans 8:1 says, "There is now no condemnation for those in Christ Jesus." Because of what Jesus did for us, we are forever free! While it is still expected as humans that we will sin and feel convicted of sin, we should not hold on to guilt. Edward Welch once said, "when it (guilt) persists too long, it provides fuel for Satan's lies." Let the guilt go and repent. Jesus will wash away your every sin.
Jesus Will Forgive Me Every Time I Come To Him
If only we were perfect humans who never sinned after giving our lives to Jesus Christ! Unfortunately, we aren't perfect, but the good news is that we don't have to be! Thanks to our savior, Jesus Christ, we are forgiven for our sins in the past, present, and future, as we repent to Him. 1 John 1:9 says, "If we confess our sins, he is faithful and righteous to forgive us our sins and to cleanse us from all unrighteousness." Even though our sins are washed away, we must still strive to avoid sinning. As Thomas Fuller said, "Let us stop the progress of sin in our soul at the first stage, for the farther it goes the faster it will increase."
The Lord Will Never Leave Me
Sometimes it can feel like our sin is so large that there is no way that God is still with us. We may even feel physically far from Him. Even if it has been a long time since we've drawn near to God, through being in the the Word or through prayer, we must remember that Jesus never leaves us. Deuteronomy 31:6 says, "He will not leave you or forsake you." When it comes down to it, we could not escape our Lord if we tried. No matter where we go, He will be there. "I am with you always, to the end of the age (Matthew 28:20)."
How great it is to have a God like ours! He forgives us, is always with us, has a plan for us, and washes away all our fears and guilt. The Bible holds many declarations of truth for changing our lives. As Charles H. Spurgeon said, "A Bible that's falling apart usually belongs to someone who isn't." While it is encouraged to read many more truths of the Bible, we hope these five quick declarations help lead anyone in need to a surprising spiritual breakthrough.
Want a Printable Version of this Blog? Download it now!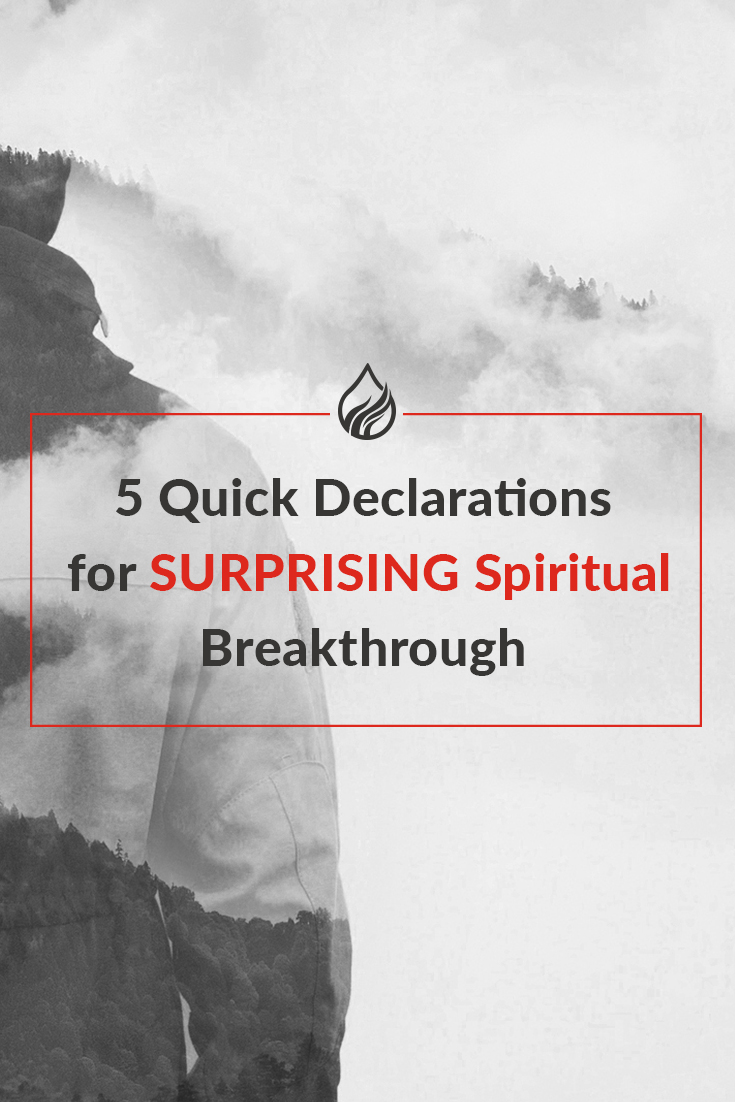 Know someone who needs this?
share it with them on social media!